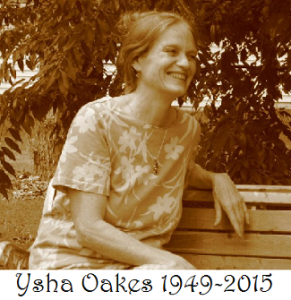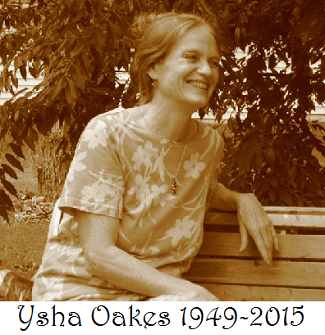 Greetings All,
With great sadness and great joy, we want you to know that Ysha Oakes, the founder of Sacred Window School, passed away peacefully on Monday, May 25th at around 1:30 p.m. MST. She had been ill for several months, and her decline was rapid. During the last days she was in the loving presence of her children and her friend Nomi Gallo and husband, who both offered many hours of vedic ritual chants for her end of life passage. Countless people around the world were also watching over her and present with her in their own hearts and prayers, as can be seen by the many touching comments on Caring Bridge, FaceBook and emails.
Ysha was an amazing visionary and a force of such undivided commitment and gentle loving strength, that I think she will be fondly remembered for many years to come, and that she will continue to inspire everyone who touches her intention and teachings. May she have a beautiful and conscious journey onward.
It is not clear how things will evolve regarding her life's work — everything happened so quickly — but please know that her family is committed to finding some way to make her legacy available. In the meantime, this Sacred Window website will remain up (after a few days of downtime for maintenance), students will still be supported administratively, and many of her teachings and books will be available online in the next week or so.
For all of Ysha's students: It's more important than ever to continue and spread this knowledge through her teachings. We are hoping to gather her most qualified proteges to take over her mentorship role, so that we can graduate as many of her current students as possible in the coming months. Don't slacken now! Keep up with your studies and we'll be in touch soon! Contact us at ayudoula@gmail.com if you have concerns or queries– or if you are a prospective student!
For those interested in furthering her legacy: Please know that Ysha's work will continue in many forms through all of you. But we also have hopes to keep her legacy alive in some way. If you wish to be informed and have input into that discussion, please contact the school directly at ayudoula@gmail.com — indicating your interest in the subject line and your skills and desired focus in the message.
In response to the recent concerns and interest within the AyuDoula Community a facebook group has been organized by Sacred Window AyuDoula Shweta Parmar and others. If you would like to join this group, please contact Shweta directly at nycayurdoula@gmail.com. Please pass the word.

Don't be surprised if you feel Ysha's loving presence touch you at times. I'm sure she'll be watching over us. Thank you all for your endearing support and love throughout these past few days. And thank you for your abiding interest in Sacred Window.
Suzanne Ropiequet
P.S. No one currently has access to her email or FB accounts or to her voice mail, so please use only the above email to contact Sacred Window.