---
---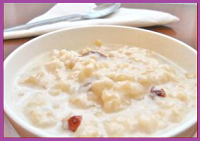 Rice Pudding (Kheer)
Whatever your recipe for rice pudding, enjoy it – freshly cooked and served warm.   But it is much better to leave out eggs, raisins, and favor a lighter sweetener as the iron rich ones curdle the milk unless stirred in carefully near the end. Serve as desired after childbirth, adding the nuts after a couple weeks, gradually. By then if you like, a few chopped dates or figs handle better than raisins. This is also excellent daily fare for the 8th month of pregnancy. It offers special help building baby and mama's ojas – immune strength and vitality during that delicate month.
Prep Time:  long cooking, stir often. Cook time:  2-4 hours, or use a crock pot overnight.
Serves:  about 4, depends on cooking
INGREDIENTS
1 c rice
2 c water
8 c organic milk (un-homogenized if available)
10 whole cardamom seeds, slightly crushed only
2 Tbs ghee (clarified butter)
1 ½ c turbinado sugar (or optional sweetener of choice)
¼ c sliced blanched almonds
INSTRUCTIONS
Clean rice well.
Cook rice in water on medium high heat until water is almost cooked off and expanded a little.
Add milk, cardamom seeds and ghee.  Bring to boil, then turn down to medium low heat.
Stir frequently to prevent burning.
Continue to cook for 2-4 hours on medium low heat.   It should simmer gently.
When milk has boiled for a while and the kheer begins to thicken, add turbinado and stir well.
When kheer is thick, add the optional almonds.
Enjoy with cinnamon and extra spice, and extra ghee (for mothers).
Notes:
Real kheer results are very creamy with the rice partly broken down. This lends itself well to overnight cooking in that little crock pot, or a bigger one for a big family! It will yield more and a creamier pudding. Taste for sweet and spice.
Please do not cook honey; if choosing honey, add only raw, at eatably warm temperature.
Recipe adapted from Heidi Nordland, Ayurvedic Practitioner and AyuDoula.
---
---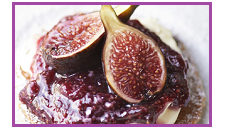 Stewed Iron Rich Fruits
A satisfying iron- and energy-rich warm dish when you wake hungry with baby before daylight or as a comforting light snack.
For the first week or 2 especially, you might choose dried fruits over fresh and stew them, to provide concentrated, easily digested nourishment to the lymph (rasa), blood (rakta) and muscle (mamsa) with resulting benefits to a healing uterus. Stewing and spicing also supports the digestive fire and lubricates the bowels. Cooked like this they serve to keep things moving well, without any drama about it or risk of increasing bleeding.
Favor iron rich fruits like raisins, figs, currants, dates, cherries, blueberries or apricots and maybe some dried mango; even prunes (they are heavier, with more tamas and laxative energy so let's use them when lochia, the post birth bleeding, is less). Of course in the summer, figs, blueberries and cherries will sing to you fresh too; ask yourself what sounds best this week.
To cook, I prefer to put fruit in a smaller crock pot with good amount of water to stew overnight, or poor hot boiling water in to speed the cooking time, without having to worry about burning by slow cooking.  I rarely use a recipe – I just throw in a cinnamon stick, some cloves, a few anise or cardamom seeds, bit of black pepper and some fresh or dried ginger with fruit of choice or just what's available. Just figs is lovely, or a festive mix as desired.  Add a pinch of salt after the first few days for better flavor and absorption.For a ready early morning snack, take 1 hour or more before breakfast.
Comments and Tips
Those who like cream may enjoy instead, after the first week, some coconut milk drizzled over their fruits.  It is better food combining and real cream is a little too rich at first. Although it is not usually needed, sometimes we just want more creaminess! Or add a little ghee during early postpartum weeks.
Note, if using cinnamon in powder form, stir in gently near the end or it will be toooo slimy wierd.
---
---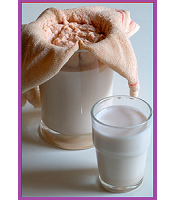 Almond Vitality Milk
Substitute dairy with almond milk if lactose intolerant. Be sure your net intake of almonds for the day is no more than 10-12, as it is heavy on the liver otherwise, for anyone. Making this fresh gives you more life force and vitality. Ghee may be considered lactose free and according to Dr. Vasant Lad, vegans should consider ghee vegan!  Or a tablespoon of dark flax oil gives good benefits with almonds. According to our experience in any case, ghee is a very special postpartum food.  This is wonderful with cereal, as snack, or at bedtime.  (And enjoy revitalizing sleep!)
Prep Time: 10 min Cooking Time: 10 min
Serves: 2
INGREDIENTS
20   raw almonds, soaked overnight (see alternative below for dairy free)
1 c boiled hot water
2 c organic cow milk (unhomogenized if possible, full cream) or water
2 tsp ghee
1/16 tsp saffron
1/8 tsp ground cardamom
1/8 tsp ground ginger, pepper or clove
½ tsp ashwagandha or shatavari powder (optionals AFTER 9 days postpartum)
2 tsp sweetener such as Rapadura, or dark jaggery syrup (high iron options)
INSTRUCTIONS 
In the morning, drain off the almond soaking water.
Pour boiling hot water and soak just until cooled down enough to handle.  Rub the skins off the almonds before they stick again, and rinse clear.
Bring the milk to a boil three times (sliding off/on the burner).
Add almonds and hot milk to the blender with ghee, saffron, cardamom and sweetener.
Blend until smooth.
Comments and Tips
Many of us do not strain our almond milk, if finely ground.
If you will be making this without dairy, add 1 Tablespoon of ground flax and optionally 1/2 tsp of lecithin before blending, and use about 24 almonds for this recipe. It will become so creamy!
Recipe adapted from Heidi Nordland, Ayurvedic Practitioner and AyuDoula