Today I snacked on a treat… sweet petals of "Rose of Sharon", combined with a few iron rich Monukka raisins, pine nuts and I must admit, some dark organic chocolate, in sweet coconut milk.  Exquisite!   In the heat, that is all I wanted for a light supper actually.   But what are the medicinal properties, I wondered?  (Certainly the chocolate is not wise for a postpartum mama-baby.)  A shrub called Rose of Sharon is blooming in my back yard, and I felt her qualities might have gifts for new mamas.
There is much more than expected, for good mood food and herbal supports!   There are stories about  two plants sometimes of that name, with similar medicinal properties and growth patterns.  Cistus Ladanifer, Rock Rose or Rose of Sharon was used in biblical times medicinally.  Hibiscus Siriacus or Rose of Sharon is a relative of Hibiscus and Hollyhock, all in the Malvaceae family, and though little used in western herbology it is well known to the Chinese.  Writing about these helps me honor  them both.
Googling for pictures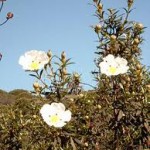 , we can see here the different leaf structure, with similar large blooms of 5 petals usually with dark red spots on each near the middle, and very similar growth pattern as the plant gets to full size, even to how the many buds form at the stem/leaf bases abundantly up the tall shrub's long stems.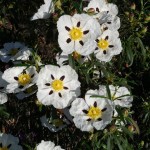 They bloom similarly – both species – from late July through September or later.  Cistus – Rock Rose flowers, above, are more papery.  Leaves of Cistus Ladanifer are more narrow, thicker and with more resinous sticky essential oil (still not a lot) and a smaller, narrower but thicker leaf.  It is more drought resistant.
Hibiscus Siriacus – Rose of Sharon flowers, below, are more demulcent.  Leaves of Siriacus often three lobed and serrated, are larger and make a more tropical looking bushy plant. Although my Rose of Sharon lives very happily in Albuquerque, she needs more watering to keep from drooping than the obviously more resin protected Cistus, which at least one source calls an evergreen.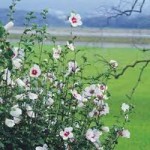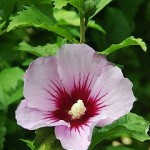 Hibiscus varieties are definitely deciduous.  Flowers of both Rose of Sharon and Rock rose look and grow much the same, even growing from buds placed on stems in similar fashion.
The shrub and many medicinal descriptions and qualities are similar but it seems the mucilaginous properties of the hibiscus varieties dominate, and the medicinal resin also called Labdanum even in the Bible, is special to cistus.  Dried flowers of the hibiscus family are often used in Chinese medicine in tea form for multiple purposes, including as gentle and mild laxative, although dried powder used in large quantity reverses and can be constipative.  So though delicious and nourishing as fresh blooms for a cooked food item, we should also observe its effects with our clients, after testing on ourselves.  I am new enough eating these I can't give you feedback yet, except that one of the fresh large blossoms did not make any change in my stool.
Western herbalists do not seem to use these plants much for medicine.  I was delighted to find some pages on Rose of Sharon in a book called Herbal Emissaries: Bringing Chinese Herbs to the West : A Guide to Gardening, Herbal Wisdom and Well Being.  Great detail is there about how the Orientals have used this plant for long time.  In moderation it may serve many uses including gentle demulcent benefits for irritated or inflamed gut.  The flowers may be used externally as an emollient and internally in GI tract support.  It reduces BP, is hypotensive and mildly diuretic, according to the Encyclopedia of Natural Medicine quoted on Wiki.  White flowers are favored for their best medicine apparently in both plants.  Flowers, shoots and unripe seed pods can be used in healthy stir fry from all I see and will be experimenting with.
A sticky resin like substance on bark and leaves of Cistus, called labdanum, has been used since ancient times and is spoken of in the Song of Solomon in the Bible, reports the Essential Oils Desk Reference third edition.  There 2/3 of a page speaks of the essential oil called Cistus ladanifer, also called Rock Rose.
The ants were all over my shrub in the spring- it is sweet and a young shoots a little sticky.  But this plant matches visuals for the Hibiscus variety.  Ants didn't like the neem spray I used, and the plant has gained it's strength and is not much attracting them now.  It is blooming prolifically every day so I have begun drying some flowers. They are slower to dry than, say, dandelion leaves, which indicates more nourishing than cleansing bio-constituents in them.
So my plant is in the mallow family – as is okra and hollyhock.  Gentle properties are found especially in the flowers of this plant.  "Medicinally, rose of Sharon's flower buds contain mucilage, a gooey medicinal compound made of polysaccharides, found in most species of the mallow family; think of okra's sliminess. Mucilage can be used to heal burns, wounds, gastric ulcers and internal and external inflammation and irritation, such as sore throats or urinary tract infections."  This information and much more is found in the "Urban Forager", herbalist Holly Richey's article, Eat Your Rose of Sharon, Hibiscus and Hollyhocks.  I love it!
Reducing to inflammation says reducing to Pitta dosha and alkalizing; the mucilage is reducing to Vata dosha; rebuilding for tissues, and soothing.  Whether it is actually cooling or not, it is gently so, and at least one of these "Roses" may have some prabhav for the mind and cellular rejuvenation.
Cistus ladanifer is an evergreen shrub  say some, and Hibiscus Seriacus deciduous.  The latter growing it appears even more readily to a mature 6 to 12 feet tall and about 6 feet or more in diameter.  Both drought tolerant and love full sun if possible say the growers.  Ladanifer may be very fragrant; Hibiscus Seriacus in my yard is only very mildly so, but still sweet.
Bioconstiuents which stand out are the sesquiterpenes in the labdanum.  Sesquiterpenes among other gifts are excellent at oxygenating and favored for support of brain function.   "The essential oil of Cistus comes from a rose that has a soft, honey-like scent. It is believed to be the biblical Rose of Sharon. Calming and uplifting, it is helpful for meditating and counseling. Traditionally, cistus has been used for respiratory support.  Cistus has an approximate ORAC of 38,648 (TE/L). TE/L is expressed as micromole Trolox equivalent per liter," according to Young Living Essential Oils company.
Rose of Sharon essential oil, also called Cistus ladanifer, give Labdanum or Rock Rose essential oil.  It is steam distilled from the plant leaves and branches.  It has been studied for its effects on the regeneration of cells, is antiviral, antibacterial, andihemorrhagic, anti-inflammatory, supports the sympathetic nervous system and stimulates immune activity.  It is used with hemorrhages and arthritis, and lifts the emotions.  Mood supportive, VATA and immune supportive – nice!
This essential oil may be – if known as organic and distilled without solvents – for inhalation, dietary or topical use – Topically, up to 2-4 drops can be used on an area, touched on chakra, marma or accupressure centers, and it can be used of course by direct inhalation – rub 1-3 drops in hands and cup over face, breathing into respiratory system.  When using as a supplement, dilute one to four drops in 4 fl. oz. of liquid such as almond, coconut or rice milk, not water; or use in few drops of coconut oil in a blend or in capsules, in clarified butter or other dietary fat.  These are all preferred uses in my opinion, as those plants which are less abundant in oil are costly to use in baths, diffusers, and full body oil mixes.    Up to 10-15 drops can be added to your bath water by first mixing with milk or 1-2 Tablespoons of salt, and then adding to the bath. (Essential oil mixes well with milk or something with protein or fat; it does not mix with water and would float on top of the bath water risking skin irritation.)
For reducing skin aging and wrinkles, a drop can be mixed with night cream or oil and applied to face.  Given possible skin sensitivity issues, I would slightly dilute in some way, if using anywhere the sun will shine much, or with any repetition.  If pregnant or under a doctor's care, we must advise to consult your physician who probably has no knowledge of this dear plant's virtues, so I would come prepared with some good source material besides my blogpost to gain his blessings.
Naturopath Ann Hill cites the Bach Flower remedy uses of Rose of Sharon for complete exhaustion with underlying anxiety.  She gives recipes for preparation, and to use 3 drops 3X daily.  I am happy to find this; anxiety underneath complete exhaustion is not uncommon and risky postpartum issue.  We know from Ayurved that support is needed to reduce the Vata, rejuvenate nervous system, support deep rest that transcends the high Vata conditions.  Sometimes we find so much deep anxiety that bringing in energetic medicines like the flower essences as well as the physical food/herb and essential oils help a client turn around much more easily.
Whether we are looking at Cistus ladanifer, or to lesser extent perhaps the Hibiscus Siriacus, the medicinal properties speak of Vata pacification, rejuvenative powers, immune supportive and gentle effectiveness.  The ladanifer in particular strongly whispers of precious ojas enhancing and sattvic effects; special gentleness, rejuvenative powers, physical and mental protective potency.   This journey of discovery brings me to cherish – and use – a little bottle I have had in my Biblical essential oils kit for many years, called Cistus, alias Rose of Sharon.
A little on my neck this evening has been calming and refreshing!   You can be sure the next time I teach about essential oils and perinatal uses, as well about herbs and perinatal uses, these plants will be included.  And I will be exploring culinary uses – stir fries, (the rare even for me, salads and decorating sweets), edible presentations, as dried herbal, and such as in one old herbal recipe for administering flowers of Rose of Sharon, biscuits.  My rose petal shortbread was great – this should be fun too!  I hope this brings you closer to exploring these plants if they are available in your life also.